Nancy F.
Verified owner
The night cream refreshes my skin in a way no other skin care has done before. I appreciate the way it provides both moisture and delicate oil, with an unusual and pleasant scent. Very pleased with this product.
22 hours ago
Kerry S.
Verified owner
I use this daily and love it. My skin stays soft and moist.
1 day ago
If the reflection in the mirror is showing dry or sagging skin, wrinkles, fine lines, or age spots…
Or if you wonder whether skincare products are even making a difference…
Then it's time for a high-quality night cream.
Night-time is a time of rapid recovery and healing for skin, which makes it the ideal time to feed the skin with nature's premier ingredients for the youngest looking skin.
The fact is, Purity Woods' Age-Defying Night Cream is NOT a typical night cream. It helps fight back against the three major challenges of skin aging, including:
Moisture loss that leaves your skin unable to protect itself from external skin-drying factors
Diminishing collagen (the protein that makes skin firm, plump and smooth)
Reduced elastin (the protein that gives skin its ability to stretch and bounce back)
With its breakthrough botanical formulation, the Age-Defying Night Cream gives skin what it needs to replenish and retain moisture, collagen, and elastin.
It helps combat the signs of skin aging by visibly reducing the appearance of wrinkles and by helping to improve the skin's firmness and glow overnight.
The Age-Defying Night Cream contains a powerful blend of research-based plant extracts to provide the most effective repair and protection for skin:
Organic Smartweed Extract. Contains the antioxidant resveratrol and other compounds that balance inflammation, boost elastin, and smooth out the appearance of bags and wrinkles as you sleep.
Organic Evening Primrose Oil. Provides essential fatty acids to help promote moisture retention, soothe inflammation, and sustain skin softness to reduce the effects of aging.
Organic Extract of Canadian Maple Trees. Powerful help to prevent the breakdown of elastin and help smooth and firm skin while you sleep.
Organic Rosehip Seed Oil. With vitamins and antioxidants that lock in moisture, boost collagen, and nourish the skin while strengthening skin barrier function.
Organic Tremella Fuciformis Extract. This mushroom extract contains polysaccharides and other nutrients that help pull moisture deep into the skin, protect blood vessels, and improve skin quality at the cellular level.
Plus — many other organic ingredients to help replenish collagen and elastin levels and deeply moisturize your skin as you sleep.
The Age-Defying Night Cream is a USDA Certified Organic formula that contains no GMOs or toxic preservatives and synthetic additives like pesticides, chemical fertilizers, and dyes. It's FREE of parabens, sodium benzoate, and potassium sorbate — and contains no hydrogenation or palm oil. Of course, it's also cruelty-free and never tested on animals.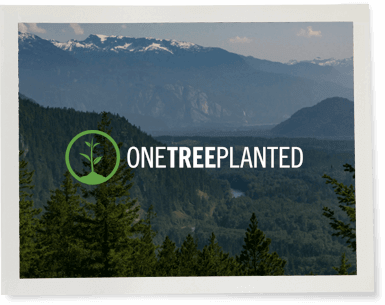 We Take Sustainability One BIG Step Further With Every Order
Beyond all ingredients in our exceptional skincare products being sustainable, we're thrilled to partner with the nonprofit One Tree Planted.  With each Purity Woods order placed, we donate a portion of the proceeds to have a tree planted in your honor.
These trees are targeted to urgently "in need" areas, such as those devastated by forest fires, and help create habitats for animals and biodiversity, jobs for social impact, and clean air and water for everyone's benefit.  We've helped plant over 1,000 trees this year already and thank you for helping us reach out goal of 10,000 trees this year!